M. CHRISTIAN LACROIX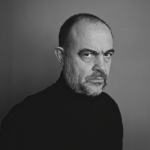 In line with its collaboration with top French designers and couturiers, Tréca presents a never-before-seen collection in collaboration with Mr Christian Lacroix.


TRECA COLLABORATION WITH MR CHRISTIAN LACROIX
NEVER-BEFORE-SEEN CREATIVITY INSPIRED BY NUMEROUS JOURNEYS

A colour couturier, Mr Lacroix stands out because of his style which results from a blend of diverse inspirations as well as ancestral traditions such as embroidery, ornaments and ensembles. He uses his talent to turn the classic headboard into a true work of art.
« "The artisan/artist binomial is more than just important. I love that my work contributes to daily life not to mention Tréca's craftmanship, which truly fascinates me." - Mr Christian Lacroix

This new collection in warm colours and decorated with ethnic elements inspired by motifs brought back from Kuwait makes you want to get away from everything all while keeping up with the trends. The extravagant curved headboard honours the couple by forming a "duo" entitled "Double-Jeu".
Two cushions were also designed by Mr Lacroix to dress up the set and create meticulous harmony with fine details. The couturier also imagined the pattern for the fabric used on the mattress, inspired by a Provencal boutis. "I worked on these headboards by drawing elements in the distance, both geographically and historically. I voluntarily proposed to Tréca the challenge of coming up with fabrics that seem to have been worn over time or faded in places and I'm quite impressed with the way in which Tréca has used these shades on such modern and long-lasting material." Mr Christian Lacroix.

The alliance of artisan know-how and daring French design Founded in 1935, Maison Tréca has built its reputation on artisan French know-how passed down generation to generation. As a pioneer in haute-couture sleep, Tréca defends a custom and distinguished approach to bedding which allows each individual to feel privileged. It is with this same spirit that they came up with the idea of giving Christian Lacroix free range to imagine an audacious and exotic collection.

To find out more about this collaborative work, watch the video: https://www.youtube.com/watch?v=5W7DCz73g9w&t=11s
BASTIDE - LIMITED EDITION
The Bastide mattress provides sumptuous and balanced comfort for all sleepers as well as proven independent support in winter and summer. The suspension is comprised of Air Spring® pocket springs which offer pleasurable comfort with a progressive point-by-point hold that adapts to your morphology and provides perfect independent support. The lateral quilting reinforces the mattress stability and hold to keep the filling perfectly in place over time. We've chosen the most noble materials to offer you the best sleep quality possible. This one-of-a-kind model, designed and produced in collaboration with Mr Christian Lacroix, can be combined with the "Double Jeu" headboard or any other headboard of your choice, decorated with fabric imagined by Mr Christian Lacroix.

Discover the limited edition through your closest distributor by clicking here.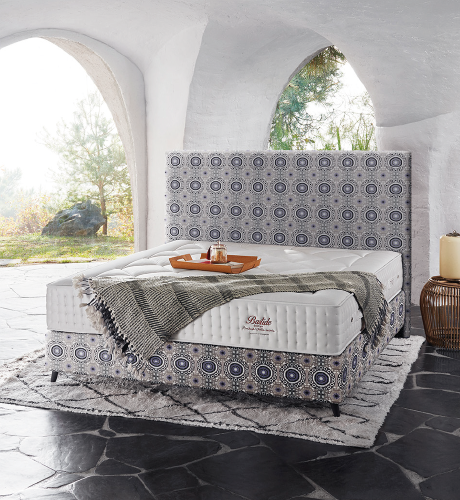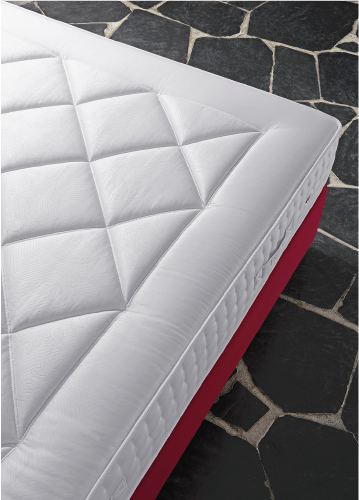 COMPOSITION
• Firm Support
● Sumptuous Sleep Surface
● Air Spring® suspension, innovative suspension for sumptuous comfort.
● 2 cm firm Softcare® Winter Side, 3 cm supple Softcare®, 100 g/m² Cashmere/Linen/Silk
● 1.5 cm Softcare® Summer Side, 100 g/m² Cashmere/Linen/Silk
● Softcare® foam is a highly resilient, naturally ventilated anti-acarid foam.
● Cashmere, linen and silk are all natural thermoregulating materials.

AVANTAGES
● Integral quilting: ensures the filling will stay in place and the surface will be fluffy.
● Fairing: ensures zero deformability and an extended mattress life.
● Surface ticking with boutis motif and 100% viscose strip ticking
● Ticking that is silky to the touch. Simple elegance, inspired in the Provence.
● A quilted strip embroidered with "Habillé par Mr Christian Lacroix" A very elegant aesthetic finish that also provides for excellent strip hold. Mr Christian Lacroix's signature is directly affixed to the mattress.
● 4 embroidered handles A high-end signature feature by the creators of Maison Tréca and easy mattress handling.
● 4 vents Vents ensure excellent ventilation and perfect mattress hygiene.