OUR HERITAGE
Treca is a French brand that offers luxurious artisan hand made beds We've been accumulating sleep know-how for generations at our two workshops in Mer, at the gates of the Chambord castle and in Reichshoffen, Alsace where the brand was born in 1935. Treca is the original French art de vivre when it comes to beds.
Our know-how
Because sleep is always unique and deserves the best, we leave nothing to chance. Our master artisans, whose know-how is passed on from generation to generation, will create the perfect bed for you, customized to your wishes.
SINCE 1935
It all began in Reichshoffen when Victor Moritz created the first Tréca spring mattress in the Tréfilerie Cablerie factory owned by his father, René Moritz. The luxurious mattress brand made exclusively in France has continued to develop its know-how ever since. Respect for traditions and customisation have made the brand in high-end bedding.
NOBLE MATERIALS
To expand the possibilities of our Tréca mattress sleeping surfaces, we've selected the noblest materials for you to choose from. Whether natural or technical, we choose our raw materials for their thermal, hydrophilic and resilience properties, but most of all, for comfort. All this to provide you with a long lasting never seen before quality bespoke bed.
Our news
Première By Tréca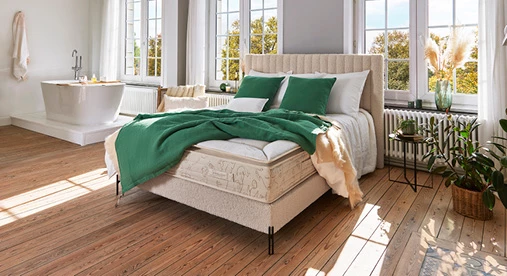 Tréca launches its new brand, Première By Tréca
Designed to meet the expectations of a new generation of consumers in search of exceptional sleep and lovers of design, Première de Tréca is an open window on the art of sleeping well.
Made in France from natural materials, the 4 mattresses and the Première de Tréca mattress topper feature illustrations inspired by artists such as Cocteau and Matisse. An exclusive and trendy decoration.
Discover
Auguste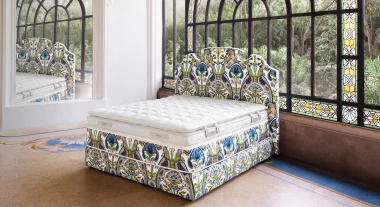 The Auguste bed, a demonstration of know-how and excellence by Tréca
A true work of art for the bedroom, Auguste is the expression of the incredible know-how of the Tréca master craftsmen. A bed with the ultimate level of comfort and unprecedented expertise. 
For the first time, Tréca has created a bed where the base, support mattress, mattress pad and overlay mattress are manufactured and sold together, guaranteeing made-to-measure comfort, and where meticulous attention is paid to detail.
Discover
L'IMPÉRIAL
AIR SPRING PRESTIGE ®
The high-end Impérial Air Spring Prestige mattress is the epitome of Maison Tréca know-how. Made of noble materials like Mohair Wool, Linen and Silk, this product offers natural thermoregulation and refined finishes. In combination with a Tréca bed base and headboard, this mattress offers a real "Experience traditional French-style sleep"
Our Collections
Imperial is the traditional collection of mattresses from Treca. Amongts those mattresses, 2 are most famous : the Imperial Air Spring Prestige and the Imperial Pullman Prestige, both created in 1947. The models of this collection have been crafted over 80 years to answer the needs of a wide variety of profile sleepers, from extra soft and organic to extra firm and tonic and everything in between.
LEARN MORE ABOUT THE COLLECTION
Les 100 Ciels takes you right to your dreams with a collection of all-natural and poetic custom beds. Pure virgin wool, linen and organic cotton are the privileged materials in the mattresses comprising this collection for healthy and environmentally-friendly sleep.
LEARN MORE ABOUT THE COLLECTION
The Couture collection is a universe where all your dreams come true: Tréca mattresses with refined finishes, traditionally hand-quilted and made with 100% all-natural noble materials with generous padding and cotton-pocketed springs. Because sleep is always unique and deserves the best, we leave nothing to chance.
LEARN MORE ABOUT THE COLLECTION
A treasure is a precious and rare object bits of gold: our high-end Tréca bedding is the perfect example. This collection offers fine and renowned products of unbeatable quality which guarantee exceptional sleep, particularly due to the noble and all-natural materials: Camel wool, Linen, Silk, Cashmere. The suspension combinations offer varied comfort because every sleeper is unique.
LEARN MORE ABOUT THE COLLECTION
The Platinum collection is made of natural materials. Camel wool, bamboo viscose, cashmere, linen, silk and horsehair generously make up the 3 mattresses in the collection in different firmnesses. Platinum offers models with identical climates and plays with the variation of suspension: single or double, they allow to find the ideal comfort on an exceptional mattress.
LEARN MORE ABOUT THE COLLECTION
Bespoke
Customise your bed as you wish.
Secure payment
Make secure payments with a bank card or by wire transfer