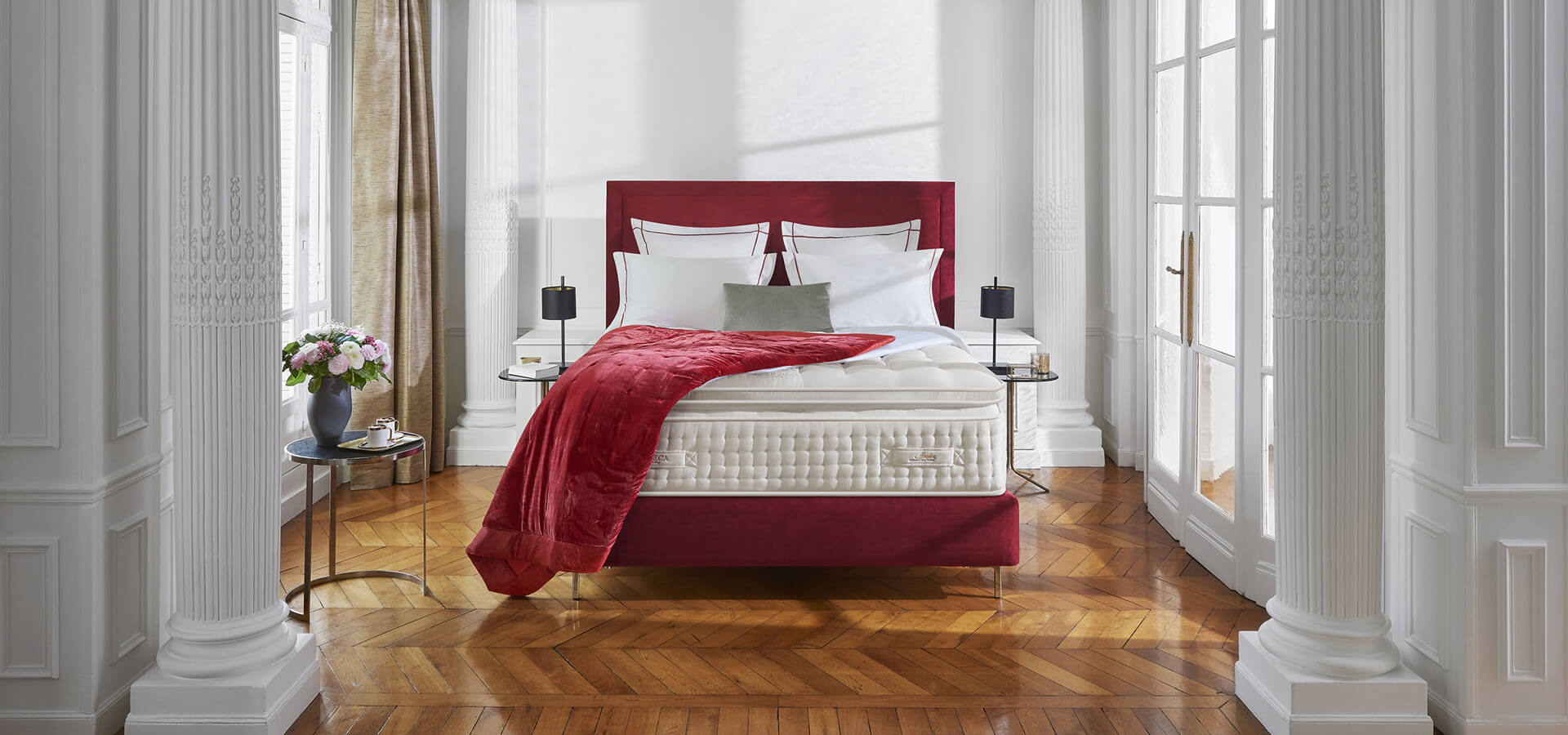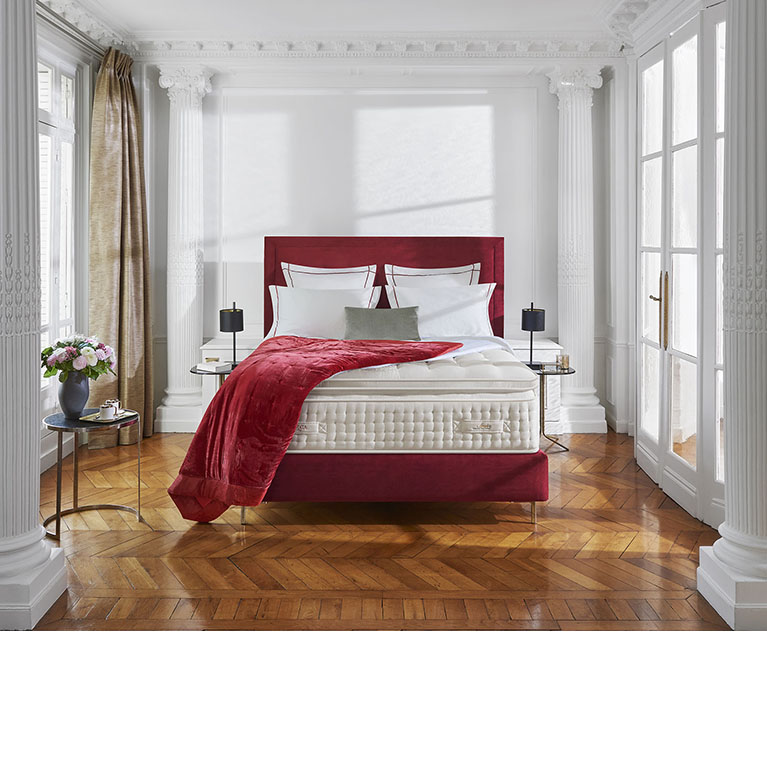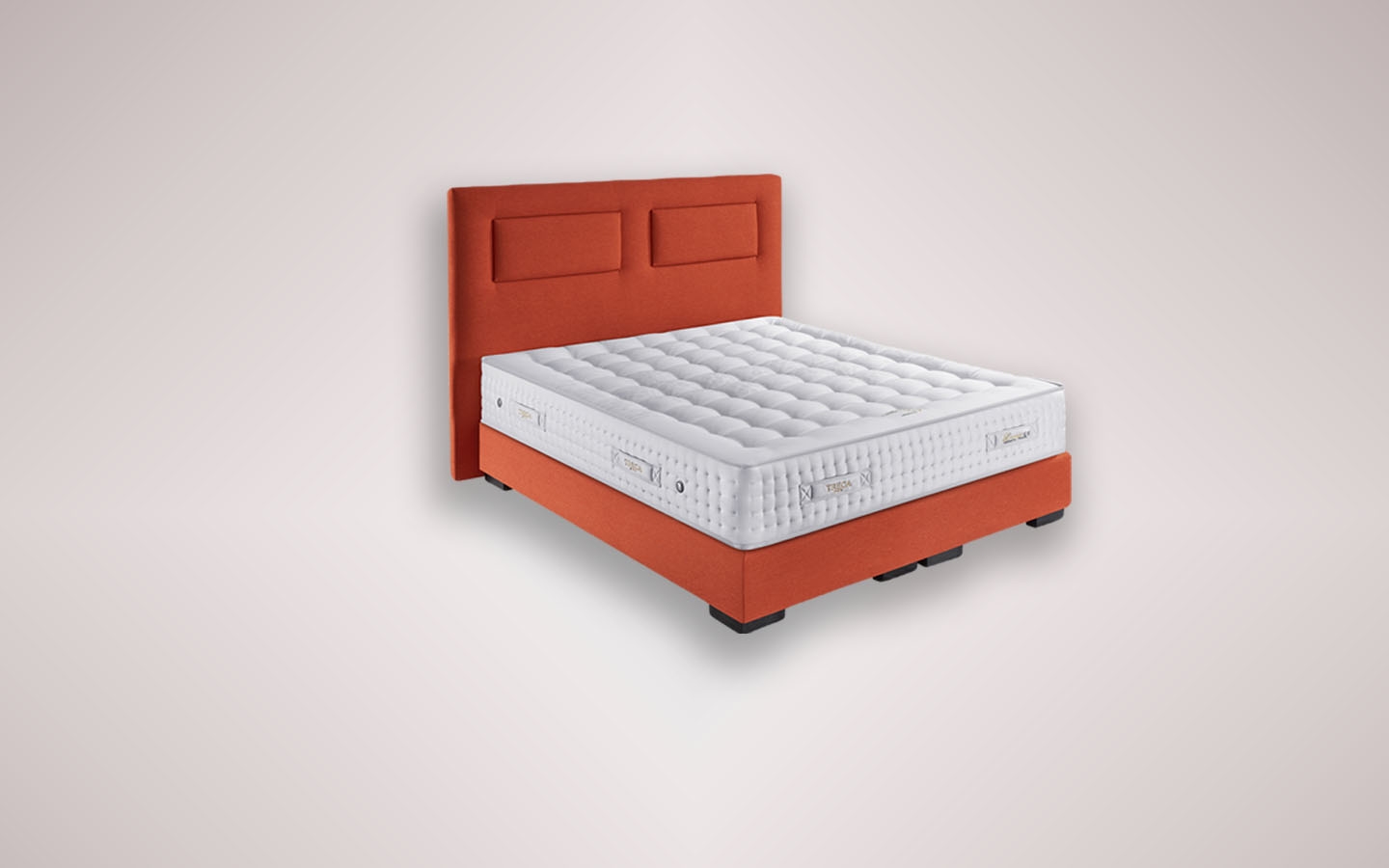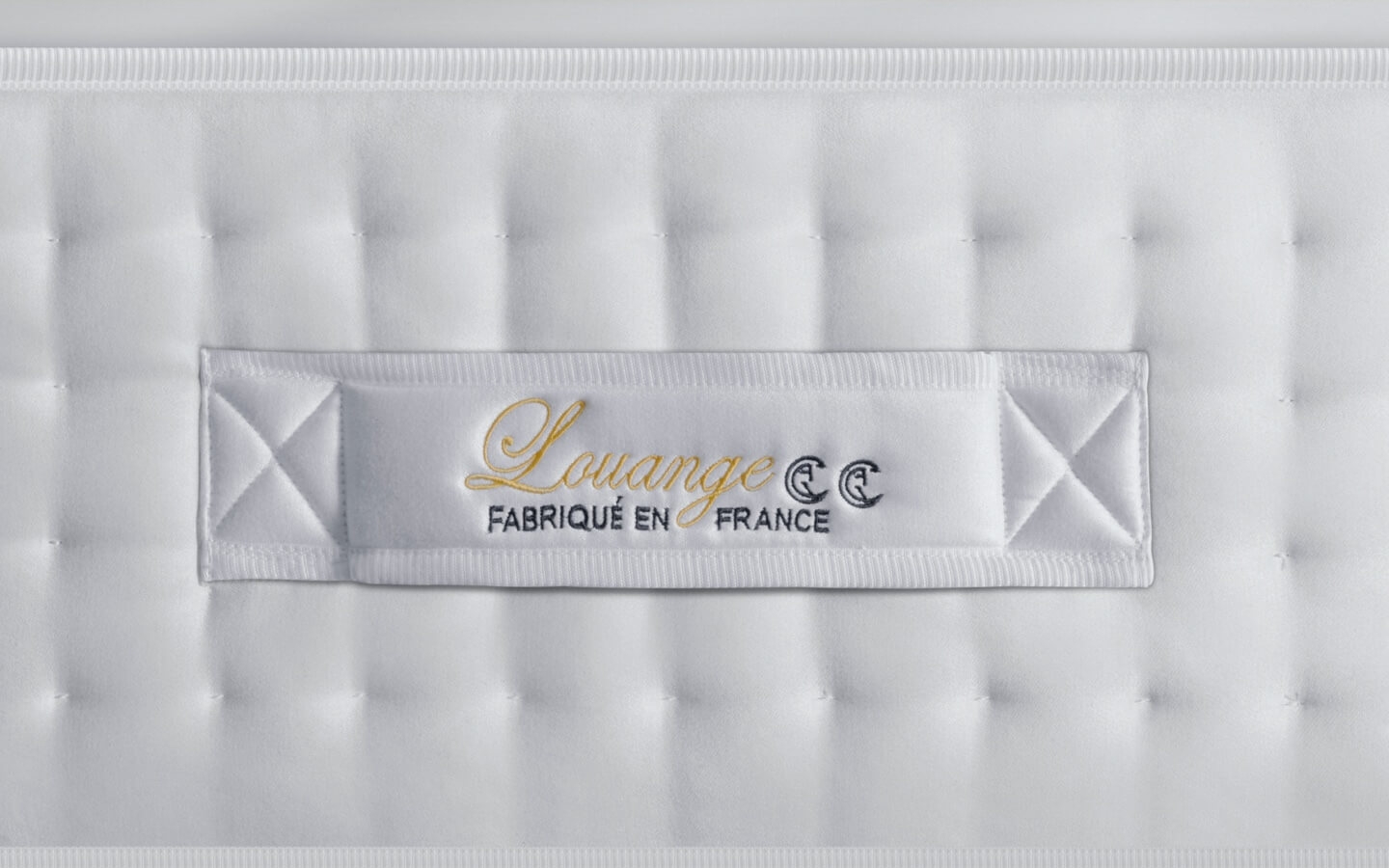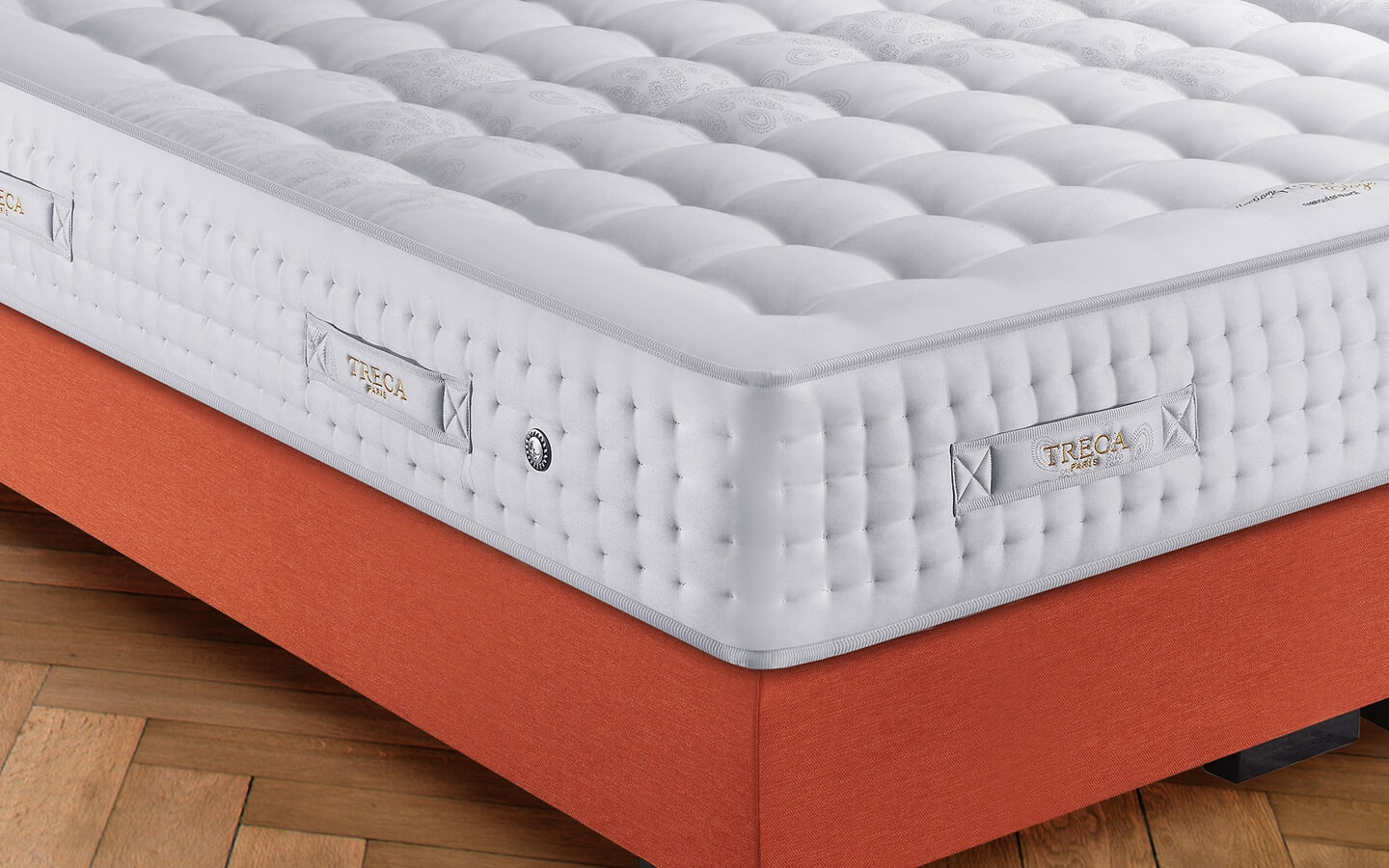 Support
Medium Firm, Firm, Very Firm
Collection
Couture
Store exclusivity
Mattress Louange
The luxury Louange mattress is entirely, laterally and artisan quilted which guarantees a good hold for the all-natural filling . The suspension is comprised of Air Spring® pocket springs over which we've added 2 layers of mini Air Spring® to offer you pleasurable comfort with a progressive point-by-point hold that adapts to your morphology and provides perfect independent support.

The lateral quilting reinforces the mattress stability and hold to keep the filling perfectly in place over time. With à-la-carte support, you can choose between firm, medium-firm and extra firm. We've selected the most noble materials and leave the choice of climatic materials up to you (Baby Camel Wool, Baby Lama Wool, Silk and French Linen) to customise your comfort and perfectly adapt to your needs and wishes. The look is also customisable as your initials can be embroidered on the surface.
Medium-Firm, Firm or Very Firm Support
Sumptuous Comfort
Loft: 33 cm
Option: French linen ticking 
Want a custom Bed
Our teams are ready to listen and answer your questions as they guide you in choosing your Tréca and how to customise it..
French Linen Ticking Option
French from the farming to the spinning, the linen used for the Tréca mattress is supplied by a certified Living Heritage Company which is one of the oldest linen weavers in the country. Linen farming requires very little pesticide and water and is soil-friendly, which makes it an organic fibre.
Air Spring® pocket spring suspension in cotton and 2 layers of Air Spring® pocket spring mini-suspension in cotton.

A progressive sleep surface that follows the body's curves and adapts to all sleeping positions. The perfect point-by-point hold with excellent independent support guarantees restorative sleep. Cotton sachets for a completely natural mattress.


Integral and lateral hand-quilting

A rare and precious species, Baby Camel wool is prized for its resistance to extreme cold: the wool is renowned for its abundance, quality and warmth. Our Couture mattresses are made from the wool obtained from the first shearing. Besides being warm and resistant, this wool is incredible fine and soft.

In summer: 4 cm natural Talalay, 1.2 kg/m2 Silk. Light and pleasant to touch, Silk lets the skin breathe during heatwaves and heats up in winter. While this fibre is the finest of natural fibres, it is also as solid as steel (with the same finesse) which makes it an exceptionally long-lasting padding material.

In summer or winter, Talalay natural latex adapts to all morphologies and sleeping positions in addition to a plush sleep surface. It's also possible to choose from among the following climatic options : Baby Lama or French Linen.
The offset repeat motif on the surface ticking (CC19) as well as the strip ticking (CCB19) are made of 90% viscose and 10% linen.

Besides the silky ticking, the Tréca mattress look features your embroidered initials on the surface.

For a mattress worthy of the most grandiose Palace, 8 embroidered handles make for easy mattress handling and 4 vents ensure excellent ventilation and perfect mattress hygiene.
In store
Want a custom Bed
Enter your postal code to select the nearest store.
Find out more
Come visit the boutique nearest you and get some personalised advice in an exclusive, private setting.
Find out more
If you have any questions, please contact us by videoconference.
Bespoke
Customise your bed as you wish.
STORES
Try your bed in a partner shop before buying.