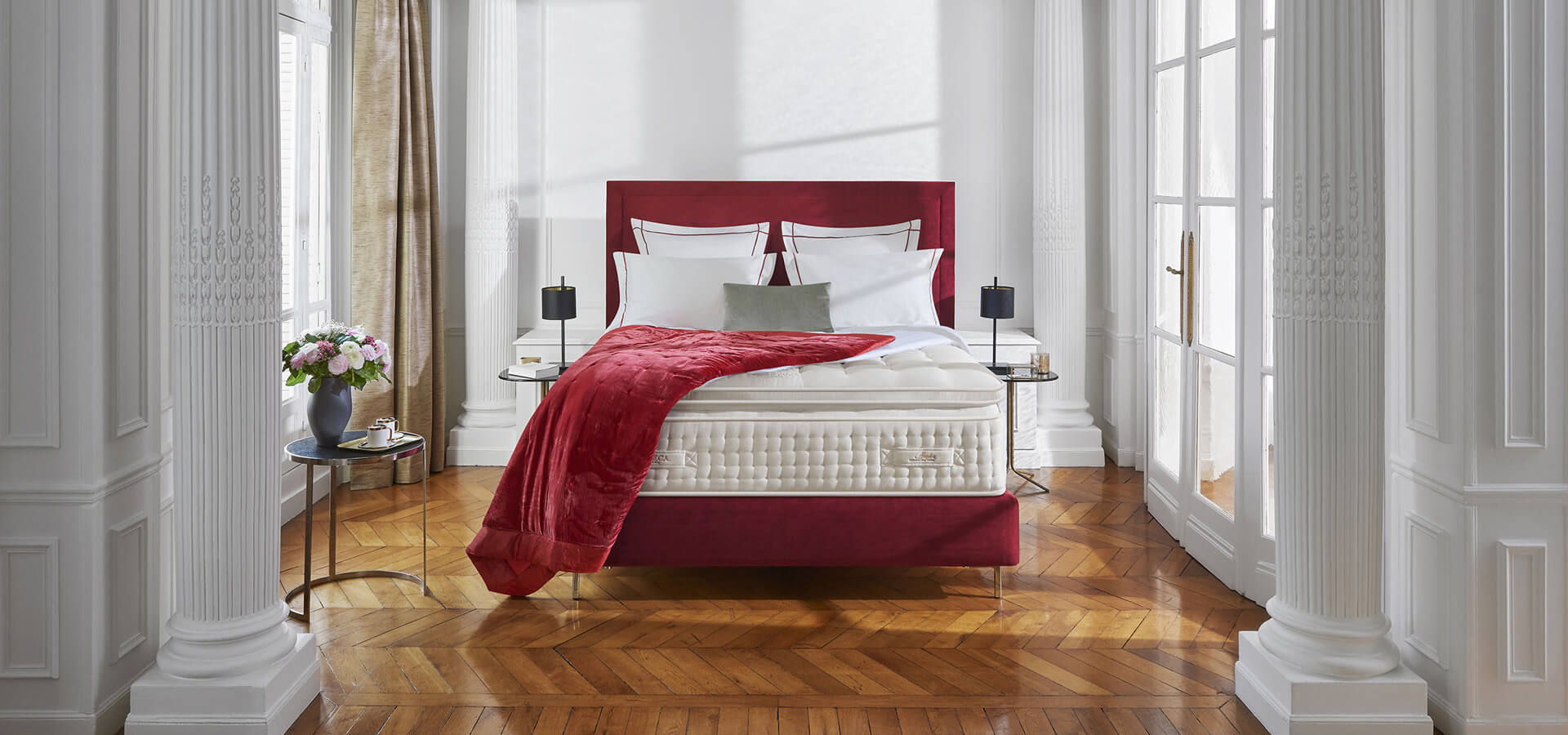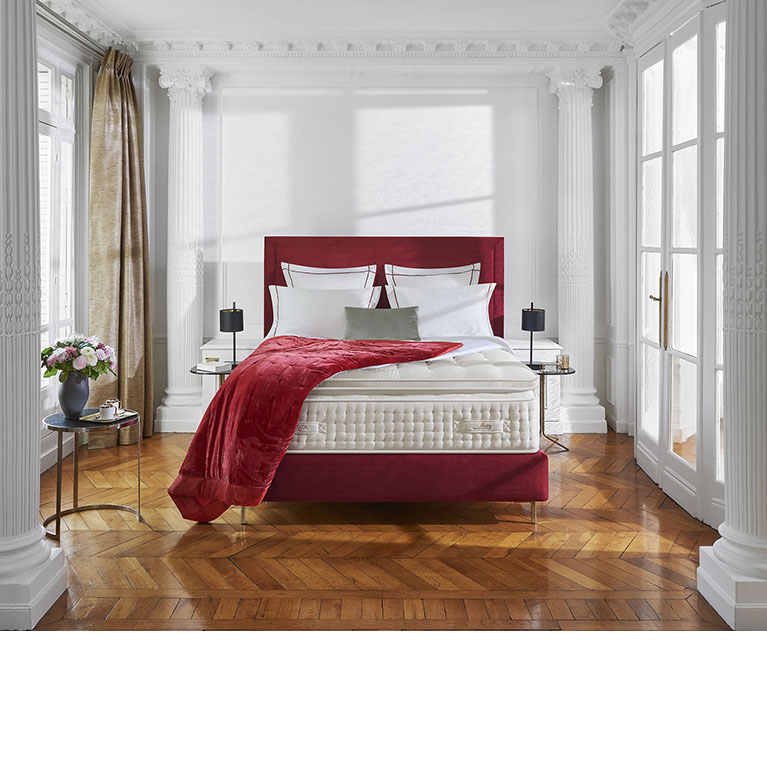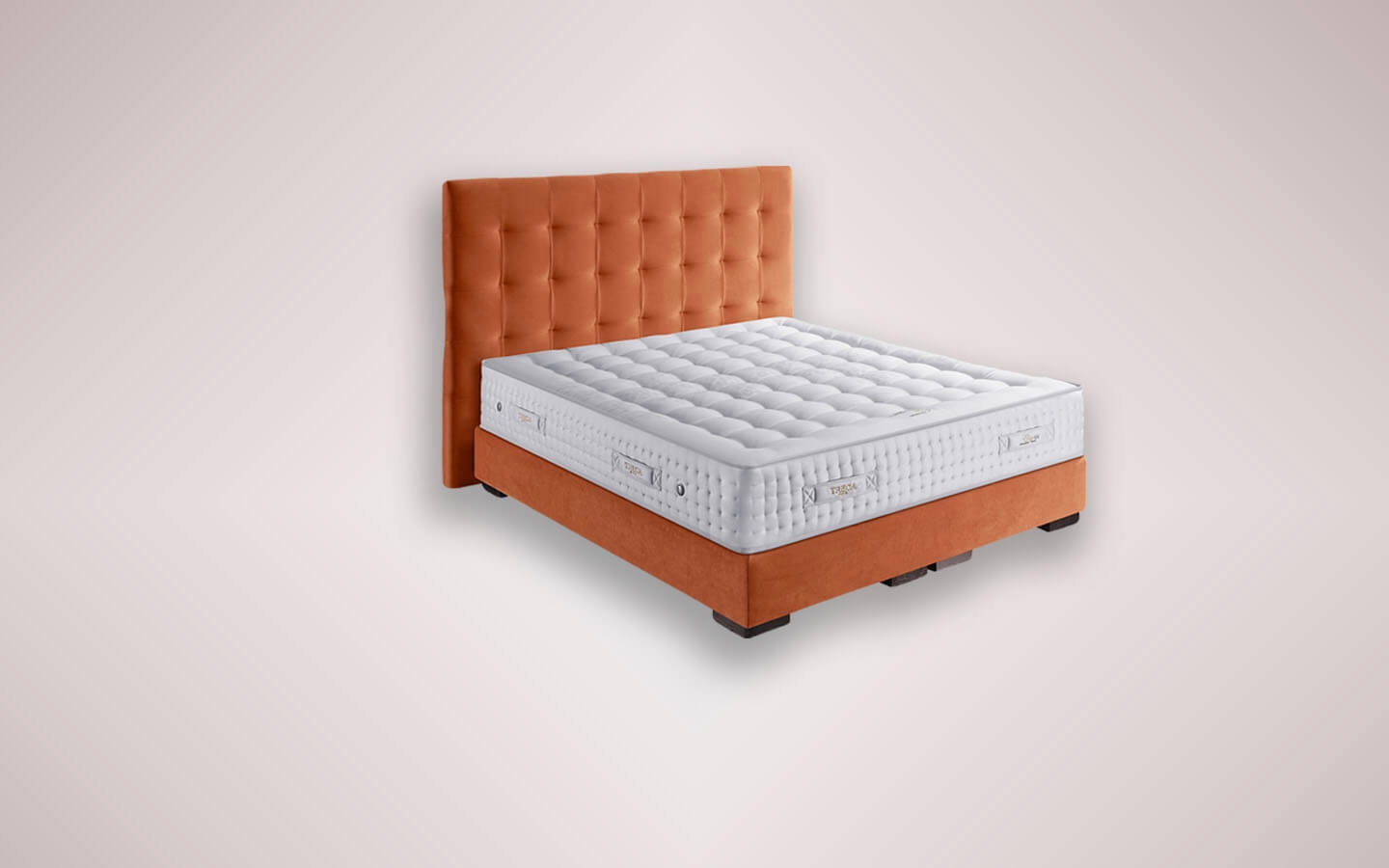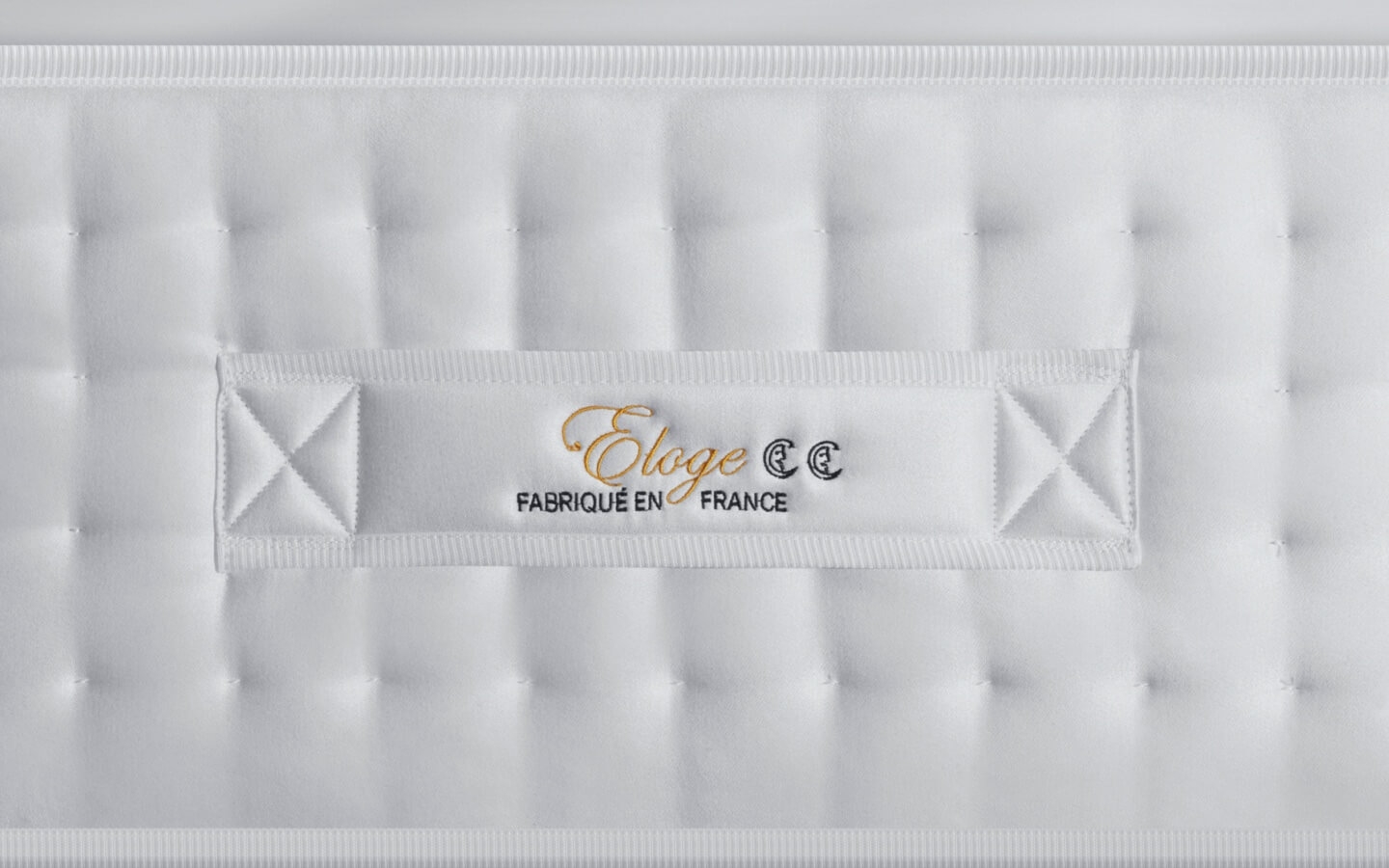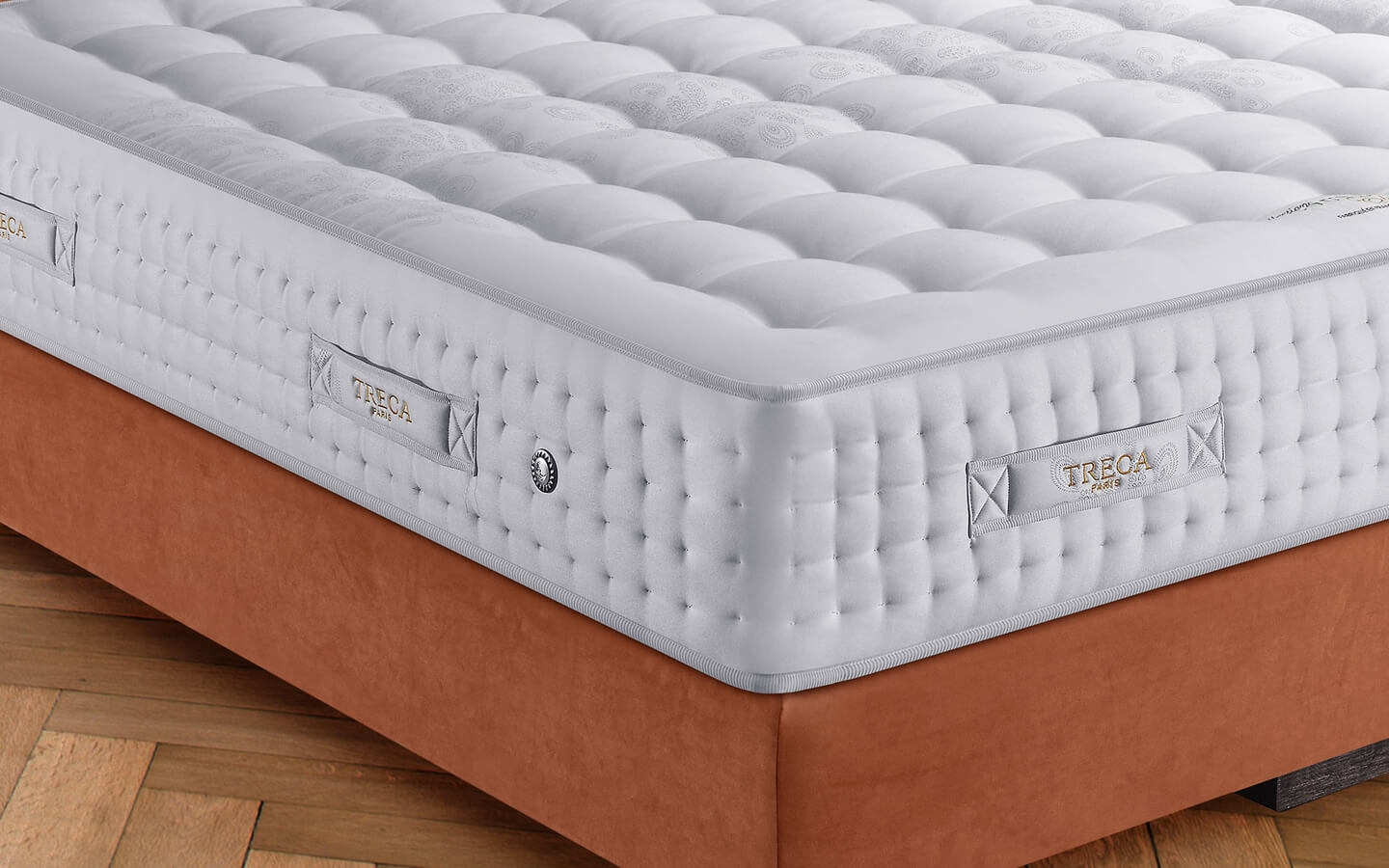 Support
Medium Firm, Firm, Very Firm
Collection
Couture
Store exclusivity
Mattress Eloge
The high-end Eloge mattress guarantees a good natural filling hold with integral, artisan quilting. For a perfect hold, pleasurable comfort and excellent independent support, we have combined Air Spring® pocket spring suspension with mini Air Spring®. Choose a firm, medium-firm or extra firm mattress based on your sleeping preferences and morphology for customised sleep. Meticulously selecting our climatic materials is part of our know-how. Baby Lama and French Linen can offer you peaceful nights and restorative sleep. A high-end signature feature by the creators of Maison Tréca, you initials can be embroidered on the mattress surface.
Comfort : Sumptuous
Medium-Firm, Firm or Very Firm Support
Loft: 29 cm
Option: French linen ticking 
Want a custom Bed
Our teams are ready to listen and answer your questions as they guide you in choosing your Tréca and how to customise it..
French Linen Ticking Option

La Maison Tréca has partnered with one of the oldest linen weavers in France, a Certified Living Heritage Company, to offer you linen that's grown and woven in the North of France and in Normandy. Because of the very low amount of water and pesticide needed and respect for the soil, linen is recognized as an organic fibre.
Air Spring® pocket spring suspension in cotton and 1 layer of Air Spring® pock spring mini-suspension in cotton

Air Spring® suspension offers a progressive sleep surface that adapts to all sleeping positions and follows the body's curves. The perfect point-by-point hold and excellent independent support guarantee restorative sleep.

Integral hand quilting
The quintessence of Tréca artisan know-how as only 3 artisans at our production workshops can do this complicated work requiring years of experience. In order to quilt the surface, a needle is crossed over the mattress at specific points to hold and divide the materials in order to guarantee you lasting comfort.

Strip encasing

Tréca mattresses are long-lasting because of the strip encasing which also prevents deformation to guarantee comfort across the mattress surface. 

In winter: 4 cm natural Talalay, 1.2 kg/m2 Baby Lama

Baby Lama wool comes from the very first shearing. Meticulous sorting work is done to separate the fine down from the rest of the treasure: this down is what gives Baby Lama all of its nobility. This wool is highly resilient, very soft and capable of storing warmth.

In summer: 4 cm natural Talalay, 1.2 kg/m2 French Linen

Linen is a natural plant-based material and excellent for thermal regulation. A regulated body temperature reduces the number of mid-sleep awakenings for even more restorative sleep as well as immense freshness.

In summer or winter, Talalay natural latex offers a plush sleep surface like no other and adapts to all morphologies and sleeping positions.
The ticking on the sleep surface and the strip are made of 90% viscose and 10% linen which ensures a silky touch. Plus, the offset repeat motif and embroidered initials on the mattress surface provide a meticulous, personalised look. A high-end signature feature by the creators of Maison Tréca, 8 embroidered handles and 4 vents offer easy mattress handling and perfect ventilation.
In store
Want a custom Bed
Enter your postal code to select the nearest store.
Find out more
Come visit the boutique nearest you and get some personalised advice in an exclusive, private setting.
Find out more
If you have any questions, please contact us by videoconference.
Bespoke
Customise your bed as you wish.
STORES
Try your bed in a partner shop before buying.