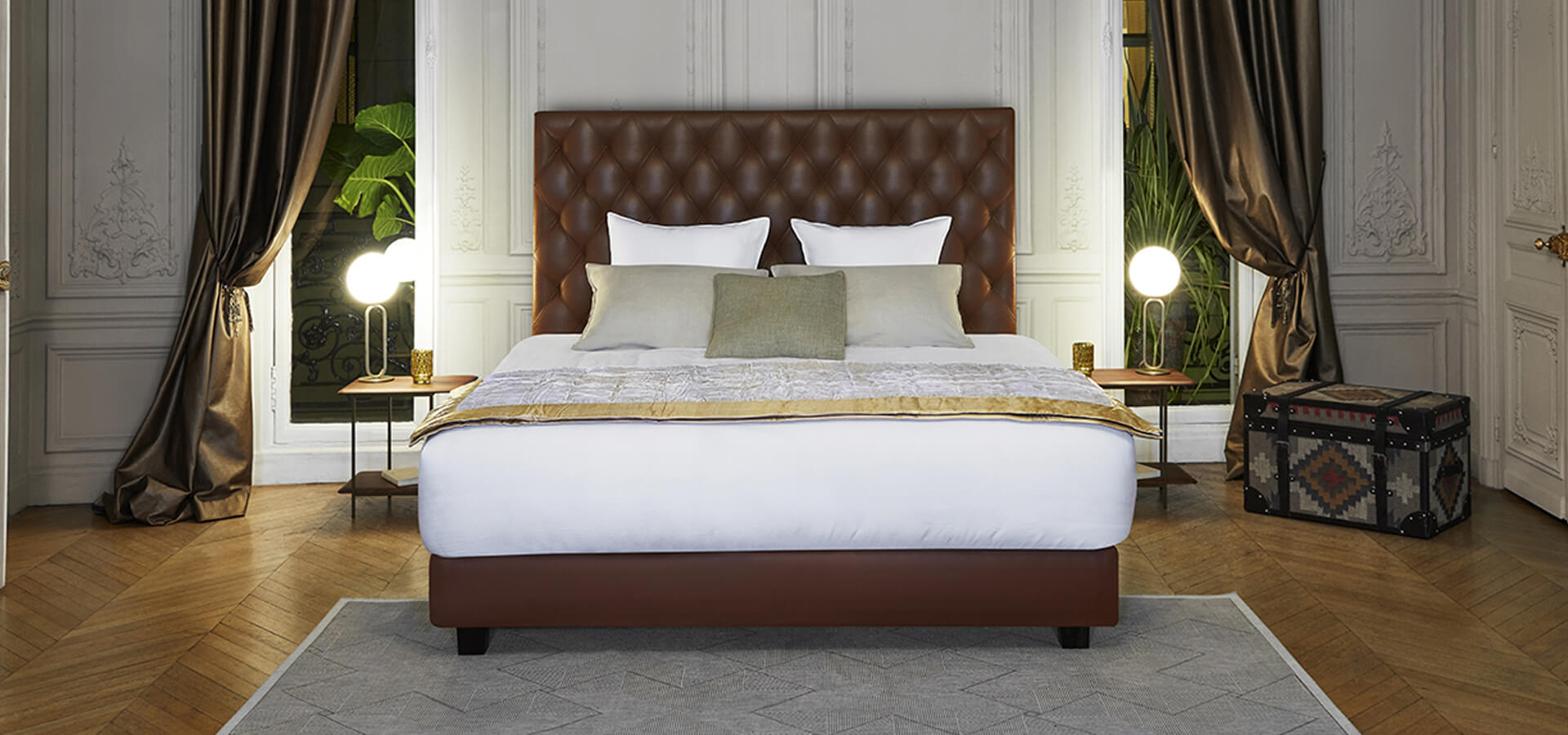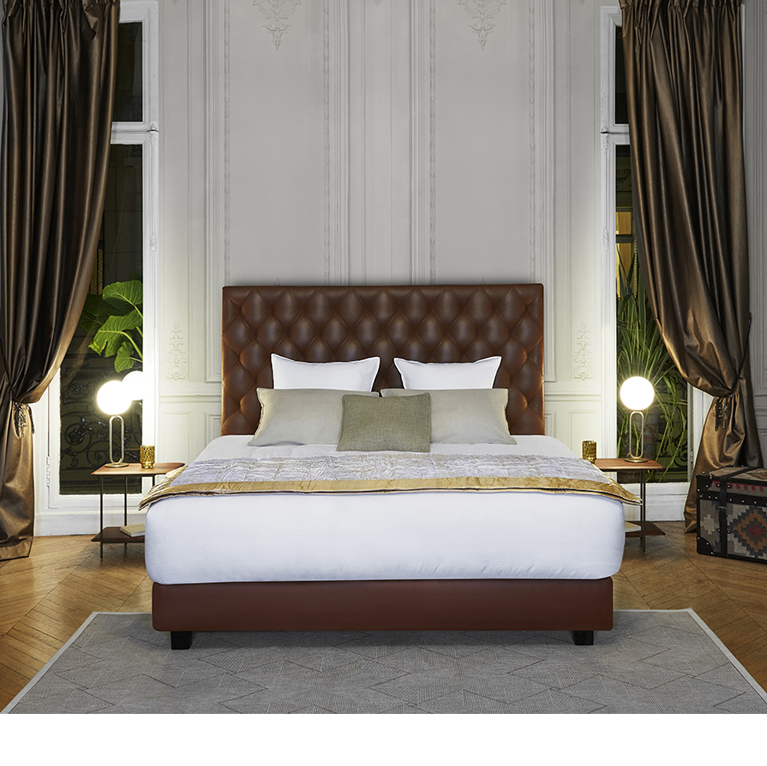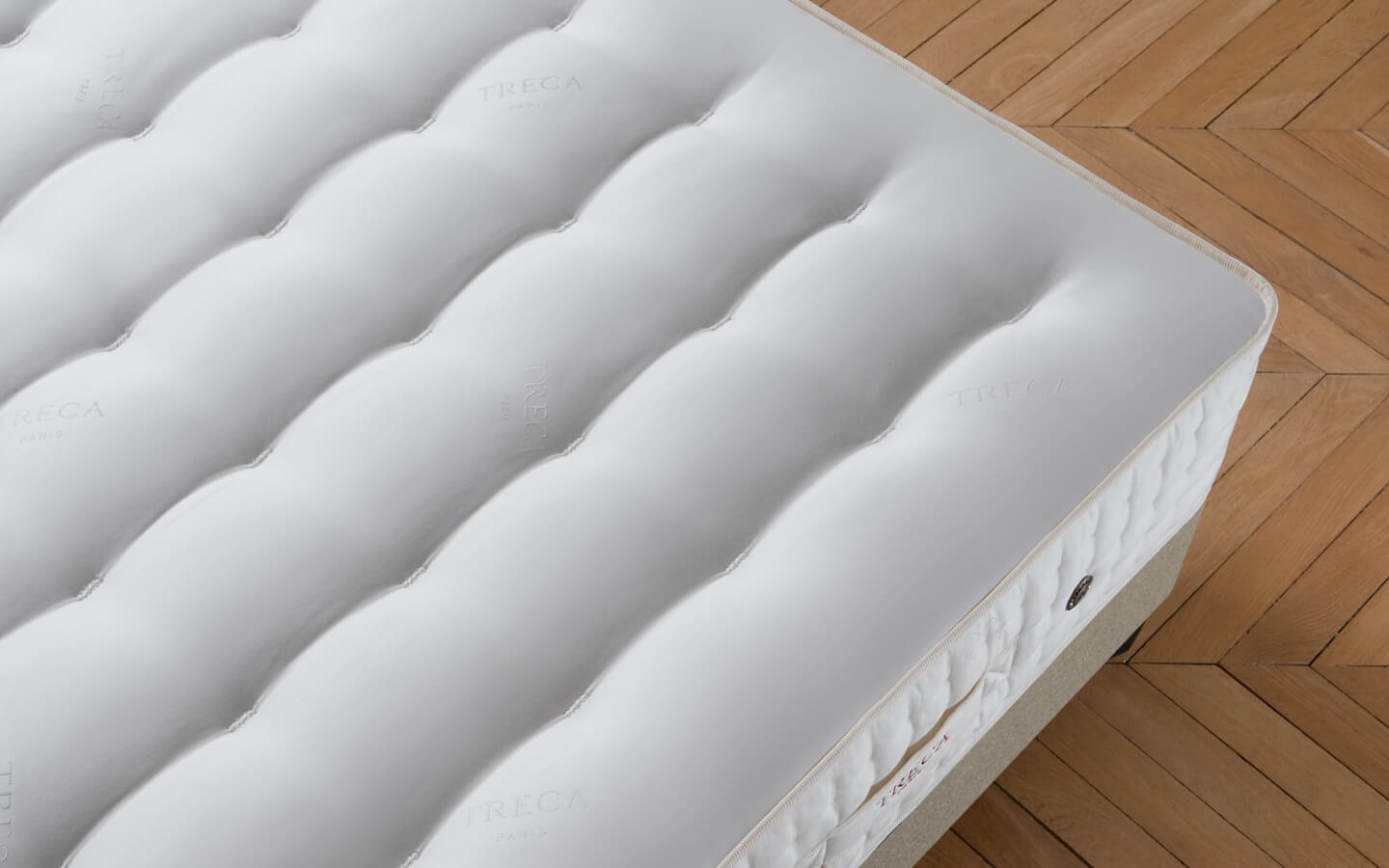 Mattress Platinum Silhouette
Support
Medium Firm, Firm, Very Firm
Collection
Platinum
Store exclusivity
Mattress Platinum Silhouette
With its Air Spring® pocket spring suspension, the Platinum Silhouette mattress offers a progressive sleep surface and plush comfort from the padding made of supple and resilient materials.
Offered in 3 different levels of firmness.|For an even better sleep experience, the Platinum Silhouette mattress can be combined with relaxation bedding for superior wellbeing.


Firm, Medium-Firm or Very Firm Support
Firm, Soft or Very Firm Comfort
Loft: 24 cm 
Want a custom Bed
Our teams are ready to listen and answer your questions as they guide you in choosing your Tréca and how to customise it..
The Platinum Silhouette mattress is finished off with high-quality details in the materials.
The strips and surface are made of Viscose and Silk ticking which is pleasant and soft to touch.
Embroidery is a subtle way to allow our Tréca creators to express themselves by signing the 8 handles on the four corners of the mattress. Aesthetic and useful, they make for easy mattress handling.
Mattress ventilation is key to healthy bedding; the 4 vents on this mattress play an essential role.
The relaxation option is available for the Platinum Silhouette mattress. In combination with a relaxation bed base, the Tréca set guarantees a precious moment of wellness.
Air Spring® pocket spring suspension : The Air Spring® pocket spring suspension in Platinum Silhouette mattresses provide an evolving sleep surface as they absorb all the sleeper's movements and ensure excellent independent support.

Integral quilting : The Tréca artisans hand-quilt high-quality mattresses each day. The climatic materials are assembled by quilting point to make the surface comfortable and fluffy. |Fairing and strip encasing: the sitting area is solid and the mattress sides are maintained, thus extending the life of the mattress several years.

The different climatic compositions of the Platinum Silhouette mattress allow for different comforts depending on the sleeper's needs. Available with firm support and comfort, the winter side is made with very high-quality material, 400 g/m² Camel Wool from the neck for a soft sleep surface and a source of warmth. As for the summer side, the natural moisture-absorbent fibre used is 400 g/m² Bamboo Viscose. It's pure and environmentally-friendly.
2 cm of Latex are added to the two sleep sides. Ideal for comfort and support that adapt to each sleeper's morphology.

With Extra firm support and comfort, the winter side of the Platinum Silhouette mattress offers 400 g/m² Cashmere, Horsehair and Wool. Cashmere is a material that's pleasant to the touch and enables proper mattress ventilation all while providing warmth. In summer, the Cashmere is replaced with 400 g/m² Linen, always accompanied by Horsehair and Wool. Linen is ideal for this hot season. Highly resistant, it fights moisture perfectly for healthy and fresh bedding in all circumstances. Present on the two sides, Horsehair is a very solid and resilient material that keeps the surface firm as the years go by.

For Medium-Firm support and Supple comfort, the Platinum Silhouette mattress has a unique climatic composition of 500 g/m² of Wool, 600 g/m² of Silk Microfibre, 100 g/m² of Linen-Silk-Cashmere as well as soft 3 cm Softcare® foam. Wool is a natural insulator that adapts to the bedding and enables restorative, quality sleep. Silk is a soft and pleasant material that allows the skin to breathe even during hot seasons.
In store
Want a custom Bed
Enter your postal code to select the nearest store.
Find out more
Come visit the boutique nearest you and get some personalised advice in an exclusive, private setting.
Find out more
If you have any questions, please contact us by videoconference.
Bespoke
Customise your bed as you wish.
Secure payment
Make secure payments with a bank card or by wire transfer